After engagement ring shopping, choosing and buying your wedding rings are the next big step in planning your wedding. Unfortunately, like engagement rings, a diamond wedding ring can be quite costly, especially if you don't know what to look for or where to purchase it. A lot of factors and trends affect the price of wedding rings. Today, SepVergara Fine Jewelry will share tips to help you find the best ring for your budget. 
What is the Average Price of a Wedding Ring?
Engagement rings are more expensive than wedding bands because they feature numerous precious stones and gems. That said, wedding rings can also be quite pricey. In fact, in 2020, the price for wedding bands averaged around $1,100 for women and $510 for men in the US.
Although they are much plainer than engagement rings, wedding bands come in various styles. Depending on the choice of metal, gemstone, and design, a diamond wedding ring in the Philippines can vary between P32,000 and P350,000.
How Much Should You Spend on Wedding Rings?
There's a common misconception that a wedding ring should be equivalent to at least two months' salary. However, this isn't a good rule to base on, as everyone has different financial situations. If you have a high salary, this means that you would have to spend a fortune on the ring.
When deciding on a budget, we recommend asking yourself the following questions:
What is your monthly salary?
What are your basic monthly expenses?
How much of your salary is left over every month?
It's important to base your budget on your financial capacity and your partner's preferences. You are paying too much if you have to take out loans just to afford your wedding rings. Talk to your partner about her tastes to find a balance between your budget and her expectations.
Where to Buy Wedding Rings?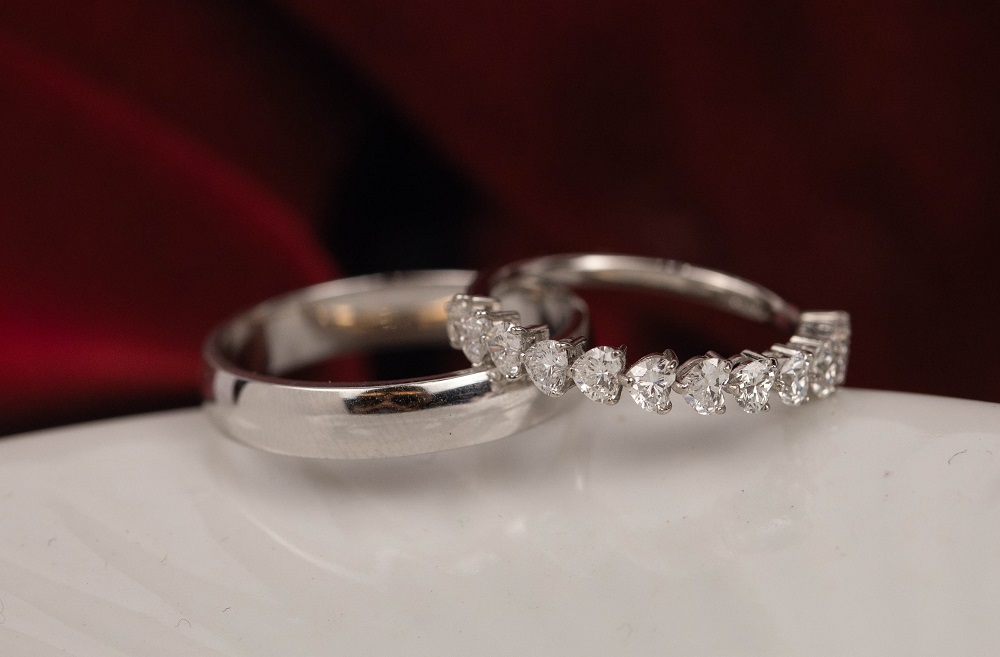 Sep Vergara Fine Jewelry is the first and only platinum jewelry specialty store in the Philippines, offering an extensive range of high-quality wedding rings.
Platinum is one of the best choices for ring bands, as they are long-lasting, highly lustrous, and durable. A pair of diamond wedding rings in a gold setting starts at Php 31,900, depending on the design and quality of the diamond. Meanwhile, our platinum wedding rings can range from Php 50,000 to Php 100,000. 
If you're ready to shop for wedding rings, you can browse our stunning selection online or visit our locations at Ayala Malls the 30th and MarQuee Mall.
SepVergara Fine Jewelry (Manila Branch)
Unit 1070, Level 1, Ayala Malls the 30th, Pasig City
+(63) 908 882 1336
Sep Vergara Fine Jewelry (Pampanga Branch)
MarQuee Mall, Level 1, Space 1132, Angeles City, Pampanga
+(63) 918 947 6685
Find the perfect symbol of your love at Sep Vergara Fine Jewelry. We have a beautiful selection of high-quality ready-made and customized wedding rings that suit different budgets and styles. View our collection online or drop by one of our stores today.